Allow me to introduce you to the cartoon master and lord-of-lords behind the internet art phenomenon that was and is, The Geek a Week project.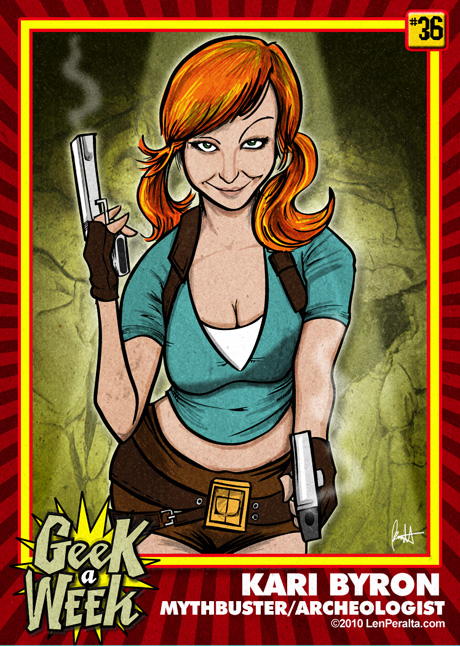 Ladies and gentlemen, Mr Len Peralta!
Hello Len and thank you for taking the time to do an interview for Skepchick and Mad Art Lab.
I'm so glad you asked me!

First of all, what got you interested in art? Did you go to school or where you self-taught?
I've always been drawing for as long as I can remember. I remember growing up, my mom couldn't keep up with my demand for fresh sheets of paper. So she offered me up the yellow pages. Consequently, every single phonebook we had was drawn in and ultimately destroyed by me. Everything I've learned has been self-taught. I was an art minor in college, but it was more fine art, painting and sculpture and the like. But what I am primarily known for – cartooning – has all been learned on my own.
I have to say, I am a big fan of not only your artistic style but your choice of subject matter. Specifically, I am a fan of your Geek a Week project that you recently completed. I was wondering if you could tell us what inspired you to start that project?
Thank you, it's always great to meet a fan! Geek A Week was basically a way for me to continue doing the kind of artwork that I liked to do. At the time I came up with the idea (with the help of my collaborators, Paul and Storm) I was doing artwork for w00tstock, Rifftrax and the illustrations for the book "Silly Rhymes For Belligerent Children" by MST3K's and Cinematic Titanic's Trace Beaulieu. I fell in love with those projects and wanted to continue in that vein with my artwork. If I was going to bill my artwork as "Geeky Art", I might as well keep true and embrace that as my brand.
How did you pick the geeks that you honored?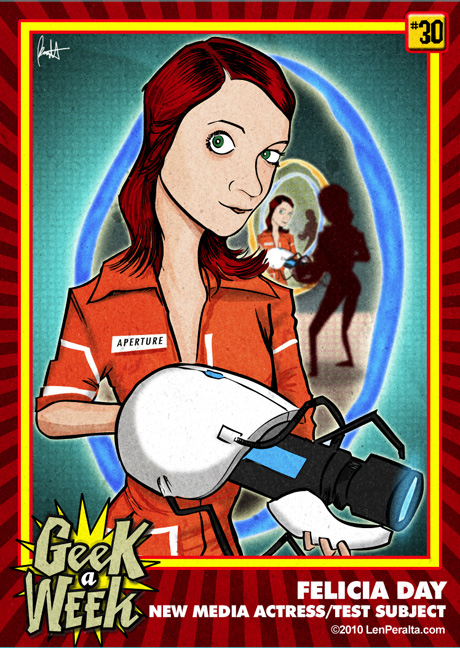 I knew some pretty influential geeky folk to begin with, so I thought it I would at least have a fighting chance to make a go of the project. As far as picking people for the deck, a lot of times, it was the geeks in the deck who influenced who I talked to. There was always a "you know who would enjoy doing this project? So and so…" and in that respect, the geeks I talked to helped influence and shape what the rest of the project looked liked. So I really owe a lot to all the geeks I talked to for helping shape the deck.
I think the project was fantastic because it showcased a different, intelligent and fascinating member of a society often overlooked by mainstream audiences. Did you get any positive feedback from people who learned about some of the geeks you featured because you featured them? In other words, do you think the trading cards helped to educate the public in anyway?
I certainly hope so. That was my intention with the deck and honestly one of my favorite parts about the project. You can enter the project from a variety of angles. Maybe you listen to a podcast of someone you follow on Twitter and then you see that I talked to someone else you like. Or maybe you're flipping through the art and are intrigued to check out the rest of the set just to look at the rest of the artwork. There are so many entry points, but the thread that holds everyone together is that the people I talked to are all doing wonderful things in geek culture. But more than that, they are passionate about what they do. And that to me is what "geek" is all about. You can be a geek about magic, or music or Dr. Who or toy trains. As long as you are passionate about something, in my estimation, you are a geek.
Do you have a particular favorite card or set of cards from the project? If so why?
That's like asking me to choose my favorite child! I really like all the cards and podcasts that I did and am really proud about everyone I was able to talk to for the project. But I guess if I had to choose favorites…art-wise, one of my favorites is Penn and Teller's card just because I think it came together really nicely and it captured them perfectly.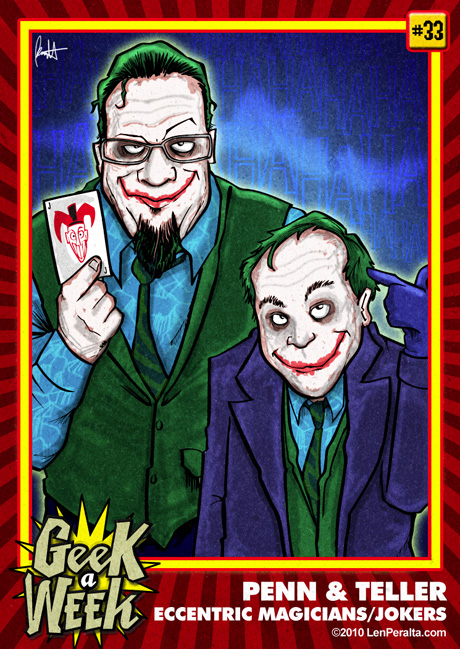 My favorite podcast iterview would have to be a toss up between Grant Imahara, Nolan Bushnell and Steve Wozniak. Grant's was just incredibly fun and you can hear it in the interview.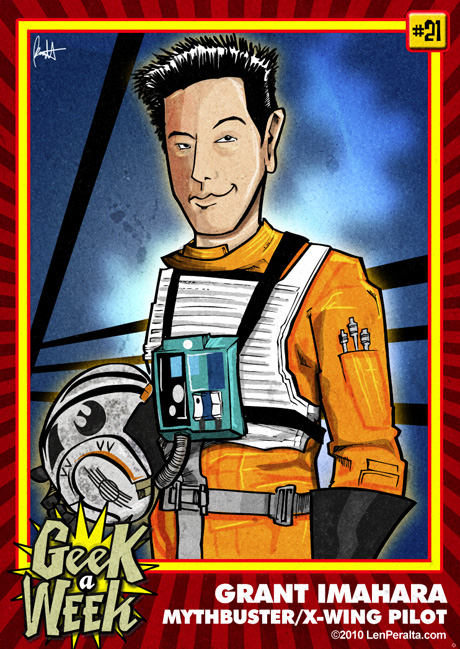 With Nolan and Woz, I've always been huge fans of them and it was an honor to be able to talk to them and tell them how influential they have been in my life and also how much they have changed and improved my life through their work. I'm still amazed I was able to do that.
(Click here to see all Len's Geek A Week designs and to listen to his podcasts!)
I was lucky enough to meet you in person at Comic Con in San Diego last year where you were doing a live poster drawing during Wootstock which was SUCH a FUN night! Could you tell us a little bit about Wootstock and how you got involved in that?
I've been good friends with Paul and Storm for a while now. When they started talking about doing w00tstock, one of the things they discussed was involving an art component in some way. I suggested an idea of creating a poster live on stage while the show was going on. I think I may be one of the only people who could actually do that in the time allotted and not feel pressure. I work very fast as it is anyway. So it made a lot of sense. Originally, I think we wanted to do something where not only would I draw the poster live, but I would be able to print out the poster live and you could buy it right after the show for everyone to sign, but that just wasn't very cost-effective. In the end, I'm really proud of being associated with the show and my contributions to the fabric of event.
My only regret that weekend (that still haunts me) was that I didn't ask you to draw me into the poster as you did for some other people. I was so impressed at the way that you helped create a sense community by adding fans into the poster along side of their geek heros. Really, very cool! Someday I will bribe you for a Surly Amy illustration! Speaking of work for hire, I know that you do a lot of illustration for books. Could you tell us about some of the books and other projects you have worked on?
Last year was a great year for new books illustrated by me. I had mentioned "Silly Rhymes" that I illustrated with Trace. I also worked on a booked called "Very Grimm Fairy Tales" by Trevor Strong of the Canadian band Arrogant Worms.
I also had another book just released earlier this month called "Look!" which was written by Infinity Ward's Robert Bowling. I loved working on that book because it was so unlike anything Robert had worked on. It's just a sweet book written for his daughter, totally unlike the M-rated video games that he is usually associated with. I also worked on a smaller book called "The Monster That Only Ate Children" written by Shannon Slaton. That was based on a song written by my friend Shannon Slaton. All this while working on Geek A Week!
After Wootstock we chatted for a bit about how you spend time drawing with your kids. Can you tell us how you have encouraged your kids to be creative?
One of the things that I have consciously tried to do is never "put down" anything they do creatively. I try to foster an environment that they can just create for the sake of creating, whether it be writing or drawing or making music. I teach a cartooning class to local kids on the weekends and I'm always amazed at how held back some of the kids I meet are. They don't like taking creative risks and it takes every ounce to get them to break that habit. I guess I take it for granted because my kids will just create anyway. I think it's in their DNA. My kids will be playing music or drawing on the computer or writing poetry all the time. And my wife and I try to encourage them at every turn and it allows them to feel free about trying a new approach. They also like to watch me draw which, along with being flattering, is a great way to teach them techniques. And they are learning! Some of my kids are getting better than me!
Watch Len work in this video!
Do you think art can be used to encourage critical thinking and to promote scientific literacy?
I'm always supportive of melding new, creative approaches to problem solving. Some of the most amazing research I have seen have been where scientists borrow creative artistic approaches to their studies. And vice versa. I think we can learn a lot from each other if we are willing to work outside our comfort zones.
What projects are you working on now?
Nothing I can talk about in great detail, but I am looking at some new book projects, more ways to offer my art online and of course, looking at way to possibly extend the Geek A Week brand.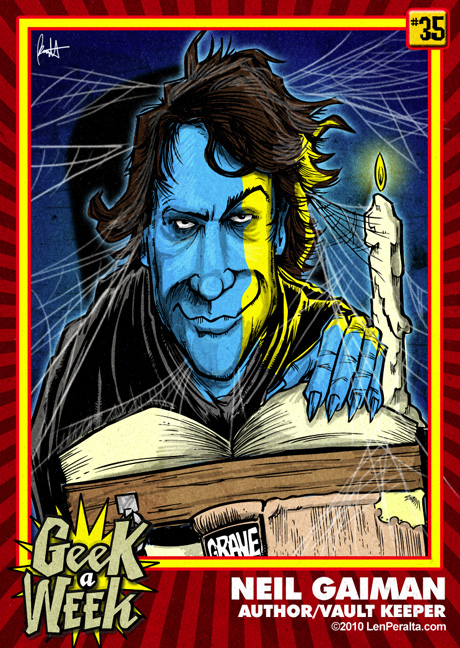 What advice would you give to an artist just starting out?
The same thing I say to my cartooning classes…Draw. Everyday. Force yourself to do it. And take life drawing classes, even if you want to do cartoons. Life drawing teaches you the rules. It gives you a construct of reality in your art. And once you learn the rules, you can break the rules.
Where can people get their hands on your trading cards, art and books and how can people follow what you are up to?
The first set of cards are available through ThinkGeek, which more sets coming out every few weeks or so (hopefully). You can also go to LenPeralta.com to see links to my body of work. And of course, you can always follow me on Twitter at @jawboneradio. That's a good place to start!
Thank you so much for taking the time to talk with us, Len! You truly are an inspiration. Keep up the great work and until next time, this is Surly Amy signing out…